Well, it's almost Thanksgiving. I feel like I'm ahead of the game, I have biscuits cooking now and the turkey is very slowly thawing in the fridge. Also, if anyone breaks it, that thing is heavy and will make a great weapon, so that's a positive. Then, just cook the evidence, like in Fried Green Tomatoes. Awesome.
Superb Bloggy Tip:
How to Take Awesome iPhone Photos
My nice camera is broken, which is really sad, so I've been taking pictures with my phone again. These are great tips to help you get the most out of your phone camera. The rest of her blog is great too.
Superb Dinner:
Chickpea Puttanesca
I love puttanesca, it's so flavorful and easy. Also, since I have the maturity of a 10 year old,, I think it's hilarious that puttanesca means...lady of the night...in Italian. This looks like a great new twist on a classic.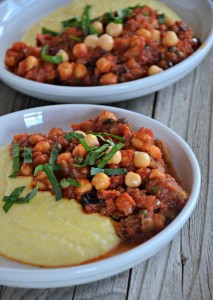 Superb Adorableness:
Good Morning
This is every day of my life. And even more since Milty currently has a cone.
Superb Sweet Treat:
Spicy Chocolate Stout Cake
This combines all my favorite things; spicy, chocolate, beer, and peanut butter icing. It's on the Thanksgiving menu.
Superb Costume:
She Doesn't Even Go Here
Definitely doing this next year.
Super Appetizer:
Feta Olive Tapenade
Yum